What It's Like to Date Each Zodiac Sign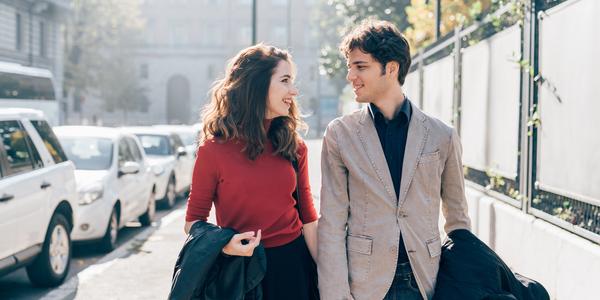 Written by Tomas
Yes, I've dated every zodiac sign. And yes, I learned something from each and every one of them. While many of us want to find our perfect soul mate or twin flame, dating (and breaking up) can teach us a lot about what we're looking for—and not looking for—in a relationship. By learning how to connect with each sign, you can expand your understanding of yourself, other people, and the world. I certainly did! While I've experienced heartbreak and confusion, I've also grown so much—I wouldn't be writing now if I hadn't. (Shout-out to my exes!) The lessons you learn from each sign can help your next relationship—no matter if they're an Aries or a Pisces.
Every zodiac sign can teach you something different about sex and love:
ARIES (MARCH 21 TO APRIL 19): F* YES OR F* NO.
Dating an Aries can be a polarizing experience. By nature, the ram is aggressive, direct, and impulsive. They don't like to wait around and they're always BOLD. Yet the most wonderful thing to learn from dating an Aries is to apply their "f*ck yes or f*ck no" rule to your own romantic life. If you're not excited to connect with someone, why are you wasting your time and theirs? If your crush isn't making you a priority, why are you chasing them? Thank you, next!
TAURUS (APRIL 20 TO MAY 20): EMBRACE *ALL* OF LIFE'S PHYSICAL PLEASURES.
Sensual Taurus is one of the most romantic zodiac signs—they're ruled by Venus, planet of love and pleasure, after all. As an earth sign, Taurus is very focused on the physical—we're talking good food, a dreamy atmosphere, and, yes, sex. The bull craves harmony and stability, so dating one can be a blissful experience. They don't want to rush things, preferring to slow down and savor the taste of dessert or the depth of your neck massage. While this may frustrate some zodiac signs, dating a Taurus teaches you to take your time and enjoy it.
GEMINI (MAY 21 TO JUNE 20): LEARN TO COMMUNICATE.
Craving a whirlwind? Date a Gemini. Ruled by intellectual Mercury, this zodiac sign demands constant stimulation, new surroundings, and plenty of talk. Dating a Gemini teaches you that you need a mental connection in order to sustain your relationship. Learning to communicate is a top priority, and it doesn't have to be *all* about feelings 24/7. You can also talk about whatever's on your mind—even if it's just a TikTok you keep thinking about, it's worth sharing.
CANCER (JUNE 21 TO JULY 22): IT'S ALL ABOUT TRUST.
Prepare to go deep when dating a Cancer! The crab hates the superficial and has a deep need for comfort, loyalty, and emotional security. Cancers will slowly but surely open their heart to you—and they expect the same in return. Trust is extremely important in any relationship but especially one with a Cancer. And although trust takes time and work to build, it's worth the work because a Cancer's nurturing and supportive presence is one of the most beautiful things to experience.
LEO (JULY 23 TO AUGUST 22): BE LOUD IN LOVE.
Leos crave passion above all else. They see their romantic lives as an epic love story—one may come with some highs and lows but is always ~dramatic~. Leos show off their love for their partners, and they expect the same in return. Dating a Leo feels like a fireworks show—seduction, dates, and sex will all be loud AF. With the Sun as their ruler, lions expect to be worshipped. Romancing a Leo teaches you that you should lead with your heart, no matter what zodiac sign you end up with. Don't be afraid to be loud about your love—and maybe you'll live that epic love story after all.
VIRGO (AUGUST 23 TO SEPTEMBER 22): GIVE UP CONTROL.
Practical Virgo has much to teach the world about love. Ruled by Mercury, this earth sign is all about planning from A to Z, and they're focused on what they can bring to a relationship rather than what you can give them. Virgos see the details that others miss, and when they offer suggestions, they're truly trying to improve your life. By dating a Virgo, you learn to surrender control and let them take the lead. The sooner that you can accept someone wanting to take care of you, the sooner you can enjoy the feelings of support and safety this brings.
LIBRA (SEPTEMBER 23 TO OCTOBER 22): PUT "US" FIRST.
Dating a Libra teaches you that a partnership is about being equal. Finding the balance is important because all relationships require an ebb and flow. It's vital to find someone who puts the relationship first rather than making you—or themselves—the priority. Libra works as a team rather than seeing each person as an independent party. When you date a Libra, you're in it together.
SCORPIO (OCTOBER 23 TO NOVEMBER 21): IT'S ALL OR NOTHING.
Intense Scorpio is one of the most passionate lovers in the zodiac. As a water sign, their emotions run as deep as the ocean. However, since they're ruled by Mars, this zodiac sign also has a fiery component. Basically, for Scorpios, it's all or nothing. There are no shades of gray—you're either in or you're out. Together or separate. Now or never. While this may intimidate some people, dating a Scorpio teaches you that games and uncertainty help no one. It's better to have clear intentions and boundaries rather than wondering how many hours you need to wait before texting back.
SAGITTARIUS (NOVEMBER 22 TO DECEMBER 21): BE SPONTANEOUS.
For adventurous Sagittarius, romance is about the journey, not the destination, man. As a fire sign, the archer craves passion, excitement, and constant activity. Ruled by Jupiter, they're always searching out new horizons. On one hand, this can make Sagittarius become restless, but on the other, it brings them the courage to experience all that life has to offer. Known for their spontaneous and impulsive nature, Sagittarius is all about living in the moment. Dating an archer teaches you not to worry about where the relationship is going and instead to live in the now. Expect a romance with a Sagittarius to push you to try new things and go new places, laughing along the way.
CAPRICORN (DECEMBER 22 TO JANUARY 19): KNOW WHAT YOU WANT.
Strong and sturdy Capricorn approaches life with a plan and is unafraid of hard work. This applies to their romantic lives too—they know what they want and they expect to get it. Caps will often initiate a discussion about what you're looking for in a relationship early on. If your goals aren't aligned, they'll move on. Cap is an earth sign, ruled by Saturn, meaning they value longevity, consistency, and practicality. One of the greatest lessons dating a Capricorn can teach you is to know what you want in your life—and understand how romance fits into that equation.
AQUARIUS (JANUARY 20 TO FEBRUARY 18): BROADEN YOUR HORIZONS.
Independent and unique Aquarius isn't the kind of lover who'll fit in a box. Dating an Aquarius teaches you to step out of your comfort zone, redefine your boundaries, and expand your ideas about, well, everything. You may even become courageous enough to date outside of your "normal type" and realize that you're into different kinds of people. Most of all, dating an Aquarius teaches you to experience new things and redefine your expectations.
PISCES (FEBRUARY 19 TO MARCH 20): ROMANCE IS AN ART FORM.
Dreamy Pisces is one of the most romantic zodiac signs. As a water sign, Pisces is especially sensitive and craves deep connections. They're ruled by Neptune, planet of imagination and illusion, so while they're capable of enchanted love, they can also get lost in a fantasy and fall in love with the idea of love. Still, the fish's eternal optimism has truly irresistible qualities that make them so memorable and fun. Above all, dating a Pisces shows you that romance is an art form.
Written by Tomas, an astrology enthusiast that shares his personal experience with different personality related to zodiac signs.