The 5 Best American Franchise Opportunities for Aspiring Entrepreneurs 
Looking to start a business? Instead of starting from scratch, opening a franchise may be a great option for an aspiring entrepreneur. The best place to start is by finding the right franchise.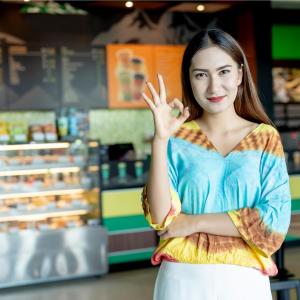 Finding a franchise with a good reputation is important so that you'll be set up to succeed. Some important factors that you may need to consider while choosing a franchise are the initial investment, capital requirements, business financing and current trends. Also deeply investigate how much time it will take to get your business up and running.
What is a Business Franchise
A franchise is a business in which an established business owner known as the 'franchisor' sells the rights to use their company name, trademarks and business model to independent operators, called 'franchisees'. This is usually in return for a one-off franchise fee, plus an ongoing percentage of sales revenue and other fees. [1]
The Pros/Cons of a Franchise
PROS:
You can explore a new career or work in a new industry. No work experience is necessary.

Franchises are a more secure investment than new businesses because they have the support and backing of a larger, established corporation.

[

2

]

One of the reasons so many people turn to franchising is getting access to an established, loyal customer base and brand recognition.

You can get less expensive material because of the franchisor's collective buying power.

Most franchisors prioritize supporting their franchisees. They offer pre-opening assistance with operations like site selection, design, construction, financing, training, and grand-opening programs.

The most fascinating thing about owning a franchise is you get a chance to be your own boss.
CONS:
Depending on the franchise you choose, the initial investment can be high.

If you are keen on exploring new ideas or altering the existing business model, you may find there are creative limitations.

As the franchise is a predetermined business you can face restrictions on where you can operate, what products you can sell, and the suppliers you can use. 

Franchisors collect financial information from their franchisees to improve its business model. Hence, franchisees have little privacy in their business' finances.
Best Franchises to Buy
Here are five of the best franchise opportunities you should consider.
1. McDonald's
The initial cost for opening McDonalds is $45,000. You need to make an initial investment between $1,008,000 to $2,214,080 depending on the size of the restaurant facility, area of the county, selection of kitchen equipment and style of decor. They have a franchise term of 20 years for a traditional location. They charge a monthly service fee of 4.0% based on the restaurant's gross sales.[3]
McDonald's also provides hands-on training and the materials you need to become a success. Surely, McDonalds represents a great franchising opportunity with a guaranteed community presence and predictable profits. 
2. Dunkin'
Dunkin' is one of the major brands attracting the most attention with massive brand recognition. They have a franchise fee from $40,000 to $90,000 and initial investment ranges between $109,700 to $1,637,700. Dunkin supports its franchisees with training and assistance, site selection, construction, operations, management, and marketing. According to Brand Keys Customer Loyalty Engagement Index 2019, Dunkin was rated number one in customer loyalty. 
3. The UPS Store
The UPS Store is one of the top-ranked franchises in the business services industry. For the past three years, the company has maintained world-class training and support systems for new franchisees and strong brand recognition. They charge a fee of $29,950 with initial investment ranging between $138,433 to $470,031.
4. The Maids
The maids have much lower initial franchise fee and other startup costs than most other franchises. They have extensive experience and a spotless reputation in the franchise business. The Franchise fee is $12,500. The Initial investment can cost you between $48,950 to $124,950.[4]
5. 7-Eleven
This well-known store has remarkably fast processing  procedures for opening franchises. Now, you can get started within three to six months, including application, testing, and training. The Franchise fee is between $10,000 to $1,000,000. Initial investment can cost you between $37,550 to $1,149,900.[5]
Final verdict
To find out if franchising is right for you or which franchise is best for you, make sure you do your own research. Shop around and speak with different franchises in the industry. Investigate the level of support a franchisor offers. Get detailed and practical answers about the questions of profitability. If you are confused about your options you can hire a franchise consultant to get professional advice and insight. Make sure that you have done adequate research on how you will finance your franchise to achieve the best results. 
References
"What Is a Franchise: Start Up Loans." Start Up Loans Company. April 27, 2017.Accessed july 17, 2020. 
 https://www.startuploans.co.uk/business-advice/what-is-a-franchise/
 Hecht, Jared. "The Pros And Cons Of Buying A Franchise." Forbes. February 27, 2019. Accessed july 17, 2020.
https://www.forbes.com/sites/jaredhecht/2019/02/27/the-pros-and-cons-of-buying-a-franchise/#5bb9d97b1198
"Operating a New McDonald's Franchise: McDonald's." Operating a New McDonald's Franchise | McDonald's. Accessed july 17, 2020.
https://www.mcdonalds.com/us/en-us/about-us/franchising/new-restaurants.html.  
Lauckner, Sally. "10 Most Profitable Franchises in the U.S." Fundera. Accessed july 17, 2020.
https://www.fundera.com/blog/most-profitable-franchises.  
"Franchise Opportunities: 7-Eleven: Voted Best Franchise to Own." 7. Accessed july 17, 2020.

https://franchise.7-eleven.com/franchise/home

.