5 Reasons to Study a Degree in Video Game Design
Studying video game design introduces you to the art of creating the intricate environments featured within games. You get to develop encapsulating settings, the storyline, and believable characters. Game designers may also collaborate with others to launch the games and ensure that users have an immersive experience. As a game designer, you are part of an already bigger industry than the movie and music sectors combined.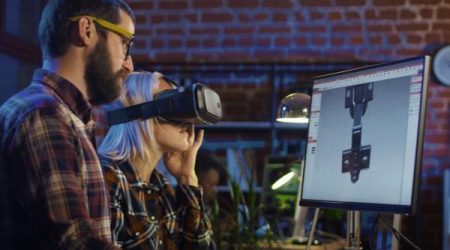 What Is Video Game Design?
Video game design is a broad field, covering creative writing, computer science, and graphic design. The gaming industry is predicted to generate $196 billion in revenue by 2022, which is why large tech giants want a share of the pie. With over two billion players globally (26% of the world's population), this is the best time to consider a gaming design career. [1]
With these trends, it's no wonder why demand for video game designers is on the rise. Not only will you work in an enjoyable and fun environment, but you are likely to take home a huge salary. With technological advancements like 4K resolutions, gaming designers can now pack more content into one game. Cultural shifts and the increasing popularity of social media and streaming have also led to an increased demand for video games.
5 Reasons to Pursue a Video Game Design Degree
1.
You Are Part of a Booming Industry
Today, the video game industry is mighty enough to rival Hollywood and the television sector. It means that you don't have to worry about becoming obsolete or switching careers any time soon. Most people have smartphones or mobile gadgets, so the number of game players increases by the day. All these gamers need passionate designers to develop awesome games for them.
2.
Excellent Salaries and Job Prospects
The salary for a game artist starts at approximately $30,000 annually for entry-level roles. The figure can get to $90,000 or higher when you are at senior art positions. A graphic programmer can be paid between $60,000 and $120,000 annually. Although the remuneration depends on several factors like expertise, seniority of the job title, and experience, video game designers are well paid. [2]
3.
You Are Paid To Do What You Love
Sadly, today's economy has pushed people to engage in careers they don't like because they have no option. Even college graduates are ending up in jobs outside their area of scope in a bid to clear their massive student debts.
If you love developing characters, gameplay, and virtual worlds, you are in luck because your chances of landing a job in your field are high. After completing your degree in video game design, you will be privileged to enjoy your passion and get paid for having a good time.
4.
You Get To Do More Than Entertain
According to Toru Iwatani, the developer of Pac-man, a game designer develops projects to make people happy. [4] Although the primary goal of creating video games is to entertain, you have a lot more to offer as a videogame designer. You can have a positive impact by creating experiences to help with:
Depression

Weight issues

Stress
Video games can also help kids learn, train soldiers, and prepare astronauts for space missions. You will have a sense of fulfillment when you improve our planet, even in the smallest ways.  
5.
You Have Lots of Options
After completing your video game design degree, you will have an ocean of opportunities waiting for you. Several video game companies are sprouting, and they all need designers to propel their ventures.
You can even start your company if you desire the freedom to run your concepts and ideas. The choice is yours, which is not a common phenomenon for many industries. There are several routes into this career, too, giving you the chance to choose your preferred path.
Conclusion
The video game design career can be challenging to venture into, but choosing the right degree will give you an upper hand. Game designers need some computer programming basics, and a bachelor's degree is a good starting point. With over 300 institutions offering the course, your options are endless. You may also consider registering for an online video game design degree. Remember to research widely before enrolling in any degree program.
References